Sanding of existing timber floors and decks, aged or new.  We remove glues, paint, existing floor coatings, varnishes and waxes leaving a freshly new bare timber floor.  We then seal with a recommended hard wearing quality product with various options to accommodate your budget.
Our team will deliver only the highest quality service and workmanship and we provide a 2-year guarantee on all our work.
The hardest part getting pristine polished floorboards is actually the sanding.   We are more then happy to do the hard work for you, so you can do the easy part and seal the floor yourself,  This can also be an economical way of getting the desired look you want.  Feel free to contact me for any advice on the best products to use to seal your floor.
In a lot of cases when carpets, tiles or floating floors are being laid over existing floors.  A level sand may be required to clean the wood allowing better bonding of glues also removing unevenness to prevent any bumps in the coverings.
Light sand and application of compatible finishes, this removes light scuffs and removes all surface scratches.  Ideally for maintenance to prolong the longevity of the floor coatings with-out needing an entire re-sand and saving you money in the long term.
We supply all materials for repairing to timber floors.  We source and use recycled materials to match existing aged floors. If recycled materials are unavailable we can stain the areas to match the existing timber floor. 
We can sand and polish treads, risers and stringers.  For the safety conscious non-slip products are available.
Sanding and Rejuvenating of timber decks. Sealing with the right products that are suitable for the environmental elements that it faces. For the busy client that doesn't want to have to maintain their Decking, We can schedule on going maintenance to ensure long lasting protection and avoiding having to completely re-do the area periodically, saving money in the long term.
Sometimes the actual floor may not be the right colour for the space or interior, we can take care of that by direct staining the timber floor to suit. We will even do actual samples on the existing floor so you can see exactly what the outcome will be on your floor before making the hard decision. Once you've agreed on the stain, we then sand it off and proceed with the confidence of providing the right finish.
Popular stains  at the moment are Black Japan, Brown Japan, Walnut,
White Wash, Grey Wash.
We can remove and dispose of any existing floor coverings, be it carpet, tiles, vinyl, lino or staples. We will dispose of all your waste responsibly.
Speak to us for a free measure and quote.
Sanding and Polishing - Level Sanding - Sanding Only - Repairs - Touch ups - Staining - Full installations
At Beaches Timber Floors we offer a FREE Maintenance Recall every 18 months which provides your floors every chance of a longer life. Where necessary we can recommend a maintenance re-coat in the high traffic areas of your home or the whole floor which is a fraction of the cost of a full sand and polish. It's only a day process and you can be back using the floor the following day. This will prevent having to spend extra money on floor sanding sooner than you should!
To book your free 18 Month Maintenance Recall – call Moses or Cassie on 0401 184 444 or email moses@beachestimberfloors.com.au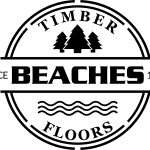 Located on the Northern Beaches we service all suburbs from Palm Beach to Manly, North Shore and all over Sydney as well as the South Coast and Illawarra Region.  There is no job too big or small.